Post by xDay on Apr 29, 2012 6:26:03 GMT -6
Alrighty my jublets! This will be a small, small (for i am lazy), yet unread intro to the game. The game that this forum is dedicated to no less.

Right after you start, you are faced with your first major decision. You have to pick a "race." Why is this critical? By choosing your character "race" you set yourself a path of what class you can later become. Certain races on have access to certain classes. I hope you know what are the races and available classes.
So, how to level up? It's quite easy, first sell one of you newbie equipment and buy lucky packets from the Mall NPC. (The lucky packets will be in the bottom of 3rd page). You could ask a nice player to help you to 110 or solooo! FTW... After leveling you must go to the "Job Changer" near the Argent Fountain and select your class. All the skills can be maxed to 10 when you are 110, so don't worry about putting too many/too less skill points in the skills.
Overview of Argent Fountain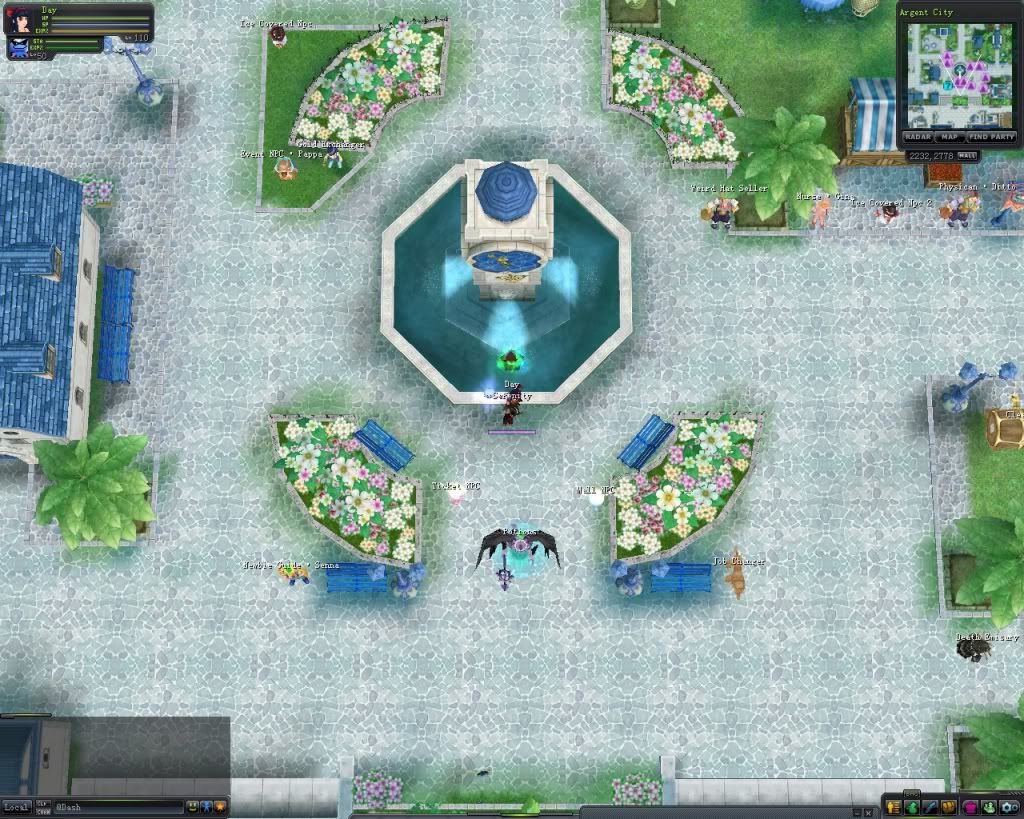 So you are leveled and you have selected your class.Then make a pet of your choice, max pet level is 50.
Now it's time to farm for your equipments!!
Most of the equipments sold in the NPCs are for Kal Rune stones (kals) To get these you could get you asses to the meteorite and mine for like 6-7 hours until your inventory is filled with May Day Cards (MDCs).
But before you goes off to mining do the story quest to get at least 1 life skill points. (2 quests is fine. But if you want to get more, feel free!)
You can do the Quest for Gold in Mall NPC. It's pretty easy, you just have to kill 15 Iron Mummy in Thundhoria Castle.
You can exchange MDCs in the main 2 MDC exchangers. 1 in Argent City
You will probably get around 30-36 stacks per character if you keep it till the pick axe's durability runs out.
Tip: To get fast kals you can use alternate characters! For example if you get 30 kals each time and then you can open like 3-4 clients it will give you a lot of boost by multiplying that 30 kals in to the number of characters you use to farm! (Yay!)
So yeah! Here are the prices for your equipments! (You can get them from Ice Covered NPC at Argent Fountain)
Death Weapons : 1 kal
Death set for your class : 20 kals
Death crown (+10 def & +1 all stats) : 15 kals
85 Unseals for 25 kals + 5 Angelic Dices. And the lvl 85 unseal shield is for 30 kals + 5 Angelic Dices
Note: You can farm Angelic Dices from the BD mobs in Chaos Argent
The best Available necklaces are Night necklace and Twilight from the Sacred Relic NPC in Shaitan for 10 Kara Shadow Crystals ( 1 ksc = 30 kals)
Then comes your rings! They are for 25 kals each. So dual lv 85 rings cost you 50 kals. ( You can get them from Ice Covered NPC 2 at Argent Fountain)
Note: For the voyagers, Admin has introduced a new type of coral which gives you the necessary stats and good movement speed + pr in wind coral!